The past 2 weeks it has been pretty cold here in Melbourne. So much so that on the really cold days I need to have the gas log fire and the reverse cycle heating going. This results in both Dave and I going into a slight hibernation mode. Instead of working after work, we have been snuggling under the blankets or sitting in front of the fire. Although last night we did do some painting and gap filling for an our after the kids were in bed.
Tomorrow Dave is driving over to
T

he Door Store
, far away on the other side of Melbourne, to pick up the wardrobe doors and bedroom doors for upstairs. We will just be getting Edwardian 3 panel doors in solid timber (Dave refuses to buy mdf) like this: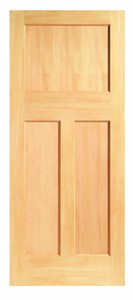 I am hoping they come pre-primed, but I doubt it.
I have finished the final coat of green and grey on Sam's room. Now have to begin on the trim which I hope to get finished this weekend. Might be wishful thinking though.
On Monday week, we have hired a painter to come and fill, sand and paint all the lining boards on the ceiling downstairs. Phew!! I was absolutely dreading that job. I think that will be money well spent.
Cheers,
Nat